Mirrors are one of the most popular items used in interior design. Whether you want to make a room appear larger or just add some extra light, mirrors can be an excellent addition to any space. However, hanging a mirror can be tricky if you don't know what you're doing. This article will teach you how to hang a mirror and give some tips on where the best place for your mirror is.

Preparation:
Before you start hammering nails into the wall, there are a few things you must first check.
Is the wall surface level?
You want to make sure that your wall is flat. A mirror won't stick well and may even fall off over time if it's not level.  To check to see if a wall is flat, use a spirit level. This will help you to determine whether your walls are suitable for a mirror to be hung on them.
Check for cables
When hanging a mirror, keep an eye on the electrical cables. This is to avoid striking a nail into an electrical cable by accident. You can use a detector to check for any electric cables in the area you want to hang your mirror.
Mirror weight
To figure out what wall screws you'll need, it's a good idea to know how much your mirror weighs. If it's brand new, you should be able to find out this information on the packaging or the retailer's website. You can also use a bathroom scale to determine your mirror's weight.
Check hardware
The majority of new mirrors come with mounting hardware. Check your mirror for D-rings, wire, or other mounting hardware. If your mirror does not have any mounting equipment included, you will need to install it yourself.
How to hang a heavy mirror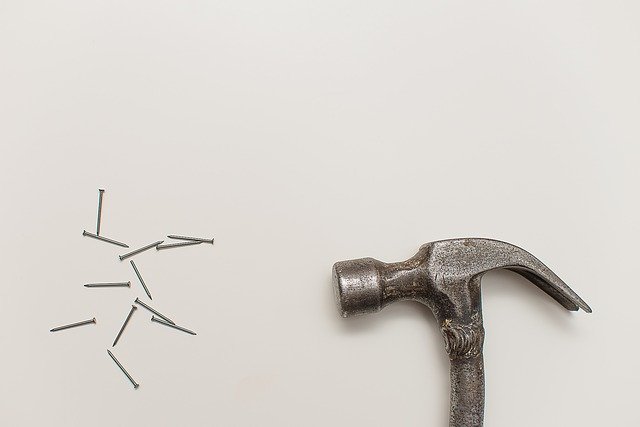 Once all the preparations have been taken care of, it is now time to hang up your mirror.
Measure up. Use a tape measure to check where you'd like the middle of your mirror to be and get the corresponding measurements.
Hold your mirror in position. When you're happy, mark the centre of the top edge to provide a positioning guide.
Measure the distance between the top of the mirror and the hanging wire or hardware and make another mark to guide the position of your hanging hook or screw.
Drill your screw into the wall if you are working on top of one of the wall studs. If not, you'll need to add an anchor into the plaster wall first.
You can now use a spirit level to check that your mirror is perfectly straight and then attach it once you are happy with the position.
Hanging heavy mirrors involves using hanging hardware like hooks, cleats, wires, or brackets. When purchasing the correct attachments, be sure to check the hardware weight limits on the packaging since the appropriate wall anchors must be capable of holding your mirror to the wall. After you have aligned with a wall stud or designated a location for your mirror, attach the wall anchor.
Top tips for hanging a heavy mirror
Drywall anchors may be useful for securing screws if you are placing your mirror on plaster walls. They provide strength and stability by fastening the screw.
Declutter the area where you will be hanging the mirror to ensure your safety
To ensure that your mirror is straight, use a level to draw a line across the wall. Your mirror will be perpendicular to the floor and you won't have to worry about whether it's level or not this way.
Ask for help when trying to lift the mirror
How to hang a mirror without nails
Homeowners may be reluctant to drill or nail into their walls when hanging a mirror but luckily there is another way to hang a mirror without making holes in your walls.
The next best option is to mount your mirror on the wall using adhesive tape. To remove any dust or debris, start by cleaning the wall with a wet cloth. Cut the tape to size and stick it to the back of the mirror, then peel off the backing and press firmly against the wall. Leave it there for a minute or two to ensure that it is properly stuck down.
Best places to hang a mirror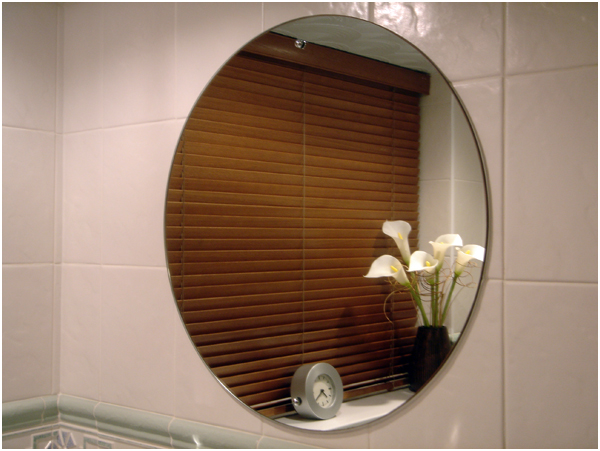 Mirrors are not only practical but if used correctly they can create the illusion of space and become the focal point to your home's decor. But to get the most of your mirrors, it is important to carefully consider where you are placing them. Let's take a look at some ways you can determine where th best place is to hang your wall mirror:
Bathrooms
The bathroom is one of the first places to think about when searching for where to hang a mirror. Mirrors are ideal in bathrooms since they open up little areas while also reflecting light around them, making rooms appear larger.
A bathroom mirror is a must-have. The most popular location to put a bathroom mirror is above the sink. Daily routines like applying makeup or shaving are made easier with a bathroom mirror. Try one out for yourself and see what a difference it makes.
Bedrooms
Full-length mirrors are an ideal choice for bedrooms that are big enough to accommodate them. Not only will they create a focal point to your bedroom but they make getting ready much more convenient.
Kitchens
Showcasing a large mirror in your kitchen will help to flood the space with light. By reflecting natural light throughout your kitchen, you can make it appear larger and more cheerful than ever before.
Long Hallways
A long, narrow hallway can be a little gloomy. A strategically-placed mirror will help to open the area and reflect light throughout the house.
Contact KLG Glass Today
At KLG Glass, we make finding the perfect mirror for your home easy. With a range of different mirrors and styles to choose from, it has never been easier to find the ideal mirror for your home decor. If you would like to find out more about the mirror we supply or need advice on the best way to hang a mirror, get in touch with us today and a member of our team will be happy to assist you.