Spooky season is approaching and many withered, skeletal hands are reaching for the fake cobwebs and rubber bats to decorate their homes. Halloween is the perfect excuse to change up your space and bring in a whole new look for a couple of weeks.
But not everyone wants to fill their home with bright plastic and trailing synthetic fabrics scattered everywhere. There are only so many tiny fake spiders you can accidentally hoover before you begin to reassess your life choices.
This doesn't mean you can't indulge in the (undead) spirit of the season. There are plenty of ways to spruce up your home for Halloween without making it look like an explosion in a pound shop.
We've put together these suggestions to help you bring a bit of spooky style into your home.
Keep it monochrome
View this post on Instagram
The traditional Halloween colours of orange, black, purple and green deliberately clash to create a bold discordant scheme. It's fun but full-on and quickly tips into garish if you're not careful. 
This year there's a trend for 'Scandi Halloween' where the emphasis is on empty spaces and monochrome palettes. The cosy, pale colours of hygge home design are taking on a new scary style.
Whites and soft greys are popular colour choices. They're effortlessly classy and easy to style in a spooky way. 
You can now pick up white squashes in pumpkin patches across the country. And even some supermarkets. Match with pale ghost decorations or the bleached bone of skulls and skeletons to seamlessly weave together traditional spooky and effortless elegant vibes.
Hang a Halloween wreath
View this post on Instagram
Wreaths are commonly considered Christmas decorations but hanging a Halloween wreath is a great way to add a subtle Halloween welcome to your doors.
As with all decorations, these can be as loud and bright, or subtle and subdued as you choose. To keep to a theme of modern Halloween decor, a stark black, twig-only wreath will really stand out. Particularly on a pale wall or white gloss door. If you're aiming for a more rustic vibe, then combine standard washed out Halloween colours like orange with hessian ribbon or twine.
Paint your pumpkins
If you haven't got a couple of gourds around the house, can you really say you've decorated for Halloween?
Pumpkins are the iconic Halloween decoration, but that vibrant orange and evil grin can feel a bit too much in a modern home. A timelessly chic twist on the traditional jack-o-lantern is to paint your pumpkins a solid colour instead. If you're going for a truly minimalist Halloween decor, then the contrast of black and white pumpkins will fit perfectly.
Painting it yourself means you get to keep the interactive Halloween experience, but another bonus of this Halloween re-think is you won't have to worry about the goop of pumpkin innards smeared around your house!
Handmade Pumpkins
View this post on Instagram

There is something satisfying about layering paint over the thick skin of a pumpkin but if that's still a bit much for you, maybe a handmade pumpkin would be more your thing.
Knitted, felted, or stuffed fabric pumpkins are easily available on sites like Etsy.com. You can pick according to size, colour or material and tailor them completely to your existing design scheme.
 These are almost luxury Halloween decorations so they will cost a little more. Still, they'll sit quietly in a cupboard until next year and look every bit as beautiful when they remerge. 
Best of all, you won't have to worry about how to dispose of all those rotting pumpkin corpses come November.
If you're handy with knitting needles or have some old cushions knocking around, you can even make your own. Build a stalk out of a cinnamon stick, and they'll even bring a subtle scent of autumn to your home too!
Make your own Halloween garlands
View this post on Instagram
As those handmade pumpkins prove, choosing chic Halloween decor doesn't mean you have to abandon the satisfaction of homemade creations.
Stick with something simple. Garlands are easy to make, easy to tailor to any colour scheme and always add impact wherever you string them. Use hessian twine for a rustic touch, and keep to simple shapes without over decoration. A string of felt balls, paper shapes or similar will only take a couple of hours to throw together but will add a personal yet minimalist touch that shows your skills at their best. 
And don't forget your windows…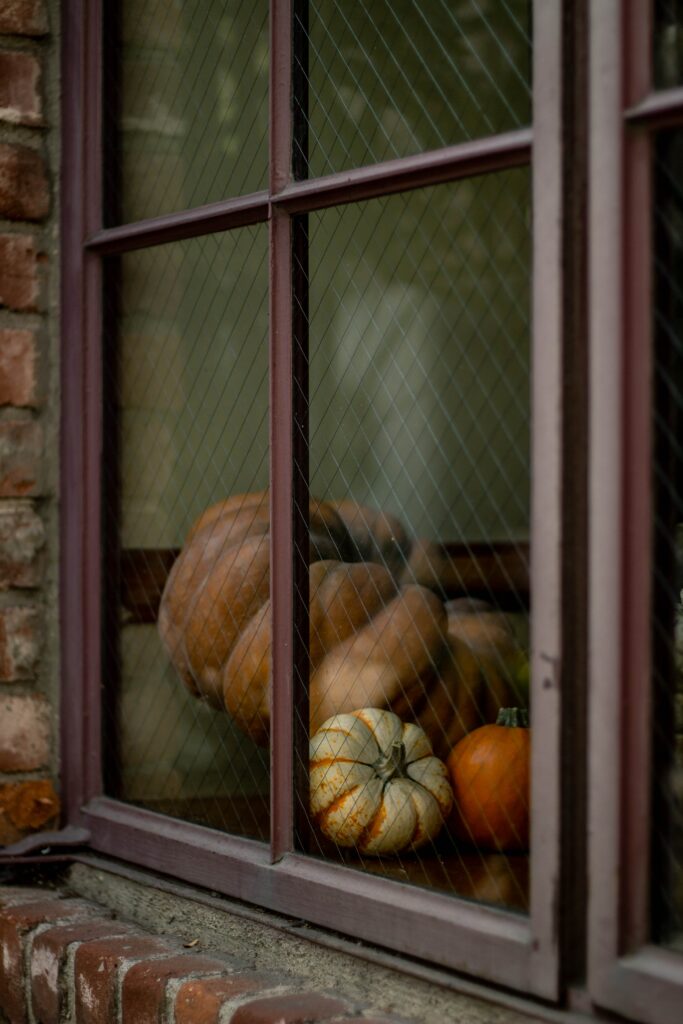 Photo by Esther Ramirez on Unsplash
Going for glam Halloween decor doesn't have to mean abandoning your window decorations either. Just as a simple wreath or select few pumpkins can keep your front door feeling subtly festive, a carefully curated window display won't disrupt even an understated decor.
If you've got a broad window sill, something as straightforward as black lanterns with battery-powered candles flickering away will add a foreboding essence to the exterior of your house. Skulls or a collection of miniature pumpkins won't have the same impact at night but they will look wonderful during the day.
Alternative, if you're short on space then stick a swirl of silhouettes to the window panes. Something with a distinctive shape like bats or a flock of crows will work well. Place them properly with a shape or movement, and they will have an eye-catchingly dramatic effect.
We love decorating our homes for Halloween, but some years it seems too much to trail fistfuls of cobwebs or carve pumpkins. And the cleanup job is immense. If you're feeling the same, but don't want to miss out on the spooky seasonal joy that only comes round once a year, we hope our tips have shown you can still get in the spirit without having to undermine any lovingly designed aesthetics across your home.